The new eFootball 2022 1.1.0 update, maintenance date, season 2, and more..
A new season will start on June 16th
Konami today announced the details of the new eFootball 2022 update 1.1.0 that will be available on all platforms on June 2.
Update 1.1.0 for eFootball 2022 will bring an update to the licensing data. As a result, the Campeonato Brasileiro Série B team will not be available in the game, and their in-game logos and widgets will be changed.
advertisement
Also, the affiliations of players and managers in the said team will be updated, but their abilities will remain unchanged and you will still be able to play with them.
The new update will also include, as revealed by Konami's Arabic account, improvements to winning decisions during online play, in addition to improving server performance in preparation for providing more experimental services that will be available in future updates. Such as sharing data between home platforms and the computer as well as the mobile version.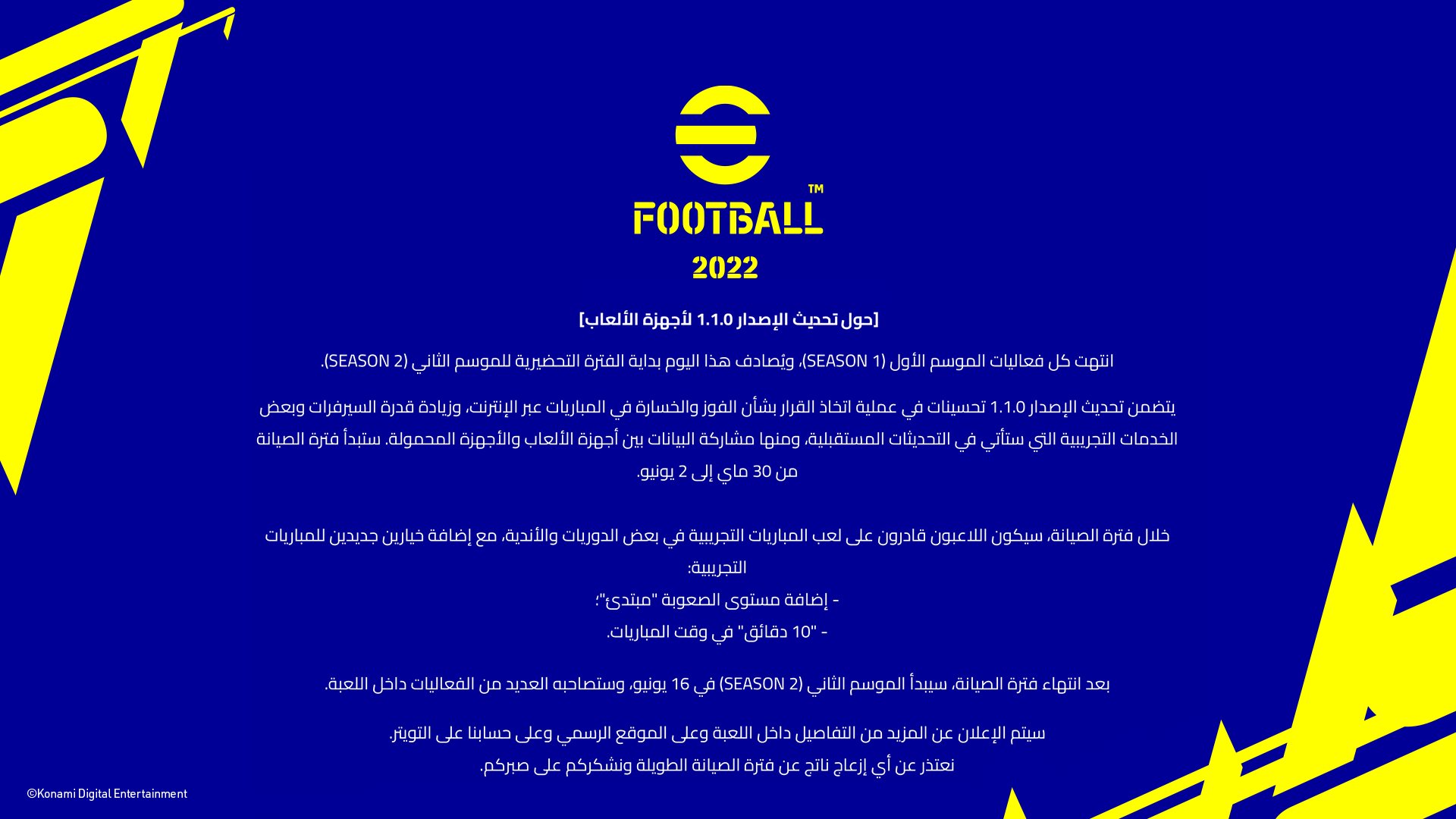 A maintenance period for game servers has also been announced, which will start on May 30th until next June 2, when the eFootball 2022 v1.1.0 update will be released on the same day.
During the maintenance period, players' access to the game will be limited, as players can get a trial period with a limited number of clubs and leagues, with two new options available:
Add difficulty level "Beginner"
Add 10 minutes to match time
After the end of maintenance and the installation of the eFootball 2022 v1.1.0 update, the game will be ready to receive the activities of Season 2, which will start on June 16th.
It is noteworthy that Konami has put the game back on track after the release of the 1.0 update, which is the full version of the game, and has brought with it many long-awaited improvements and additions, which are summarized thus.
The most important features of the new eFootball 2022 update No. 1.0.0
Seasons System
New "Dream Team" game mode
Stunning Kicks
New modes, licenses and control settings
It is noteworthy that the game still lacks many of the features that the fans demand, such as the "Master League", "Edit", "Team Play", "Co-op" and "Match Lobby", where you can create rooms to play with your friends that have not yet been played. Included in version 1.0.0.
Konami confirmed at the time that it will bring these features and features in the future, but we do not know if the eFootball 2022 v1.1.0 update will bring all these missing features or not.
Konami will reveal more details about the content of Season 2 when it becomes available on May 16 (6). Until then stay tuned for more new details..