More classic PS Plus Premium games appear on the PlayStation Store..
A drop of rain…
Sony has not yet revealed a bundle of classic PlayStation games that will be available on PS Plus Premium next June. But it seems that some of these titles have begun to appear on the PlayStation Store, according to what has been monitored so far.
Until the moment of writing this report, 3 classic titles have appeared, previously released on PlayStation 1 and PSP, all from Capcom, and these games are as follows:
advertisement
Tekken 2 (PS1)
Ridge Racer 2 (PSP)
Mr. Driller (PS1)
Worms World Party
Worms Armageddon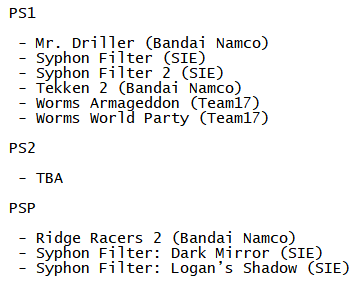 These games have begun to appear on the PlayStation Store front and there are still expectations that more will appear, but this is only a drop from Ghaith, as Sony promised to provide 340 classic games from different PlayStation 1, 2, 3, and PSP games that will be available within the PS Plus Premium package.
This means that we are on a date with many titles that we hope to return to again, such as the Tekken series and other Capcom, Konami and Bandai Namco games, through which many of us started our careers in the world of video games.
Until more games are revealed, what are your classic games that you would like to be included in the PS Plus Premium games bundle?